Elizabeth Ortiz has served on the faculty at Cedar Crest College in the Media & Communication department full time since 2003.  With master's degrees in both Media Studies and Education, her teaching looks closely at the representations of women and girls in the media and the limited roles that these characters play.  Ortiz is also currently working on a PhD in Teaching Learning and Technology at Lehigh University where she is researching how Latina and Black girls navigate media and negotiate mediated representations of girls and women like them.
The increasing need for our youth to be media literate is at the forefront of her coursework and community work as she strives to encourage girls and women to analyze media content and reject images that limit their potential.  She is also interested in social media and how it influences every aspect of communication and gives us the opportunity to become engaged in social media for the social good.   That is, how can we use our voices online to make the world a better place?   The work continues in her own home as the mother of 3 girls ages 9, 12, & 14. 
Ortiz currently serves on the The Boys and Girls Club of Allentown Foundation and The Rising Tide Community Loan Fund.  She has been named a Woman of Influence by Lehigh Valley Business, Lehigh Valley's Finest by the Cystic Fibrosis Foundation and Board Member of the Year from the Boys and Girls Club of Allentown.  In 2021 she was named the Faculty/Staff Volunteer of the Year at Cedar Crest and also received the honor of the Alumnae Award for Excellence in Teaching. 
She and her husband, Adam, own Cactus Blue Mexican Restaurant in Bethlehem, PA and she likes to bring chips & pico de gallo or banana & cream churros wherever she can – because nourishment makes for a stronger (and happier) community.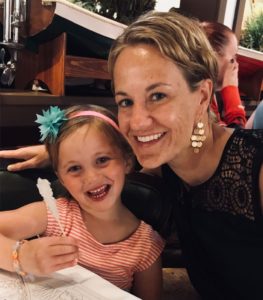 Janelle Massey is the co-founder of Sassy Massey Smiles Foundation and mom to three wonderful children including the foundations' CEO Jillian "Sassy" Massey. Janelle graduated from Saint Joseph's University in 2001 and pursued a career with Ryan Homes as a sales and marketing representative upon graduation. After spending 7 months at CHOP for inpatient treatment, Janelle discovered that the child life department was a beacon of happiness that delivered daily smiles to Jillian. With a toy in her hand and a room of arts and crafts, Jillian triumphed through 7 months of painful and intense treatment for brain cancer.  Janelle wanted to carry on Jillian's legacy and everything that CHOP meant to her.
The vision being to fill hallways of hospitals with smiles and laughter through tears and pain. After learning that local and regional child life programs survive and thrive off donations, Janelle decided to make Jillian's legacy centered on what she enjoyed most about CHOP- toys! The foundation was created one month after Jillian's passing in January 2018.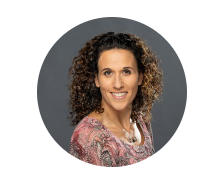 Angela Zanelli is Vice President of Policy & Advocacy and Campaign Director for Lehigh Valley Reads at PBS39/WLVT in Bethlehem, PA.  She has spent her career working for non-profit, mission-driven organizations that are making a difference.  With 20 years of experience in fundraising, marketing, and communications, Angela is thrilled to lead the PBS39's external communications as it relates to education.  She is also part of the dynamic team charged with developing and executing the strategic vision for Lehigh Valley Reads, the region's third grade reading campaign.  Because of her career accomplishments, community involvement, leadership, and sustained commitment to mentoring, Angela was recently recognized as a Lehigh Valley Business 2021 Woman of Influence.  In addition, she was the 2021 recipient of Waterford.org's Excellence & Impact Award because of her passion for helping young learners find success and her example of service to her community.  When she's not at her desk, you can find her teaching a yoga class, hiking in the woods, or driving her kids somewhere. 

Dr. Denise Francois-Seeney, Dean of Business and Industry
Dr. Denise François-Seeney began her career at NCC, teaching, in 2002. Her subsequent positions at the College include Interim Assistant Dean of the Monroe Campus, Assistant Dean of the Monroe Campus, Interim Dean of Business & Technology for the College and currently, Dean, Business & Technology for the College, an appointment she accepted in December 2011. Dean Francois is a visionary leader who has been at the head of several of NCC's major grant projects.
She earned a Bachelor's degree in Political Science and Psychology from Boston College, a Master's degree in Political Science from Villanova University and a Ph.D. in International Political and Economic Development from the University of Southern Mississippi.  Her research interests are in labor migration, especially the intersectionality of race, gender and migration.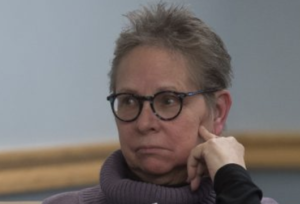 Founder and Facilitator of "The Journey Home"; Dr. Bonnie Winfield has developed a community art studio that offers creative experiences in the form of workshops, open studio, and expressive arts facilitation for individuals and groups. Her mission is to provide a creative, open space for the creative spirit to thrive. Her program "The Journey Home" has helped hundreds of women regain the tools they need to return home to their families through artistic therapies. An Experienced Social Entrepreneur with a demonstrated history of working in the higher education industry, Bonnie is skilled in Expressive Arts Therapy, Restorative Practice and Facilitation, Trauma Informed Care, Prison Re-entry, and Nonprofit Organizations. Bonnie has proven to be a strong professional with a Doctor of Philosophy (Ph.D.) focused in Peace Studies and Women's Studies from Syracuse University. Dr. Bonnie can be found in her studio at SmARTivities or at many other locations where she attends meetings, socials, and gives lectures and talks around the local area. 
Judge Anna-Kristie M. Marks received her bachelor's degree in both Political Science and Latin American Studies from the University of Delaware in 2002, where she was presented with the prestigious Woman of Promise Award and the Grossman Leadership Award.  She earned her Juris Doctorate at Touro Law Center in 2006.  In 2007, she began serving the county as an Assistant District Attorney.  She ultimately became a Senior Deputy District Attorney in the Special Victims Unit handling child sexual and physical abuse cases, as well as adult sexual abuse cases. She assisted in establishing the Dr. John Van Brakle Child Advocacy Center (CAC) at Lehigh Valley Health Network and was a leading member of its multidisciplinary team.  
Prior to joining the bench, Judge Marks provided lectures on a multitude of legal subjects at both national and international professional conferences and presented a sexting prevention program to local schools, community organizations, and parent groups. She also served as an instructor for the Allentown Police Academy. 
Judge Marks is the first Spanish speaking Judge in this county.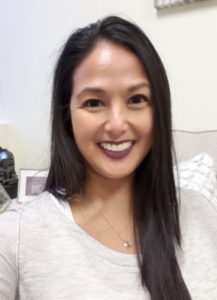 Dr. Marifel Estrada-Currie grew up in the Lehigh Valley after being born in the Philippines and moved to the United States with her family at the age of 2 after becoming ill with polio. Her father Dr. Fernando P. Estrada is a retired vascular/general surgeon and her mother, Nancy, worked alongside her father as his office manager when in private practice. Marifel is one of three children. Her older brother, Cromwell is currently a practicing family physician in the Lehigh Valley and her younger sister Christine currently resides in Plano, TX.
Marifel left the Lehigh Valley for Philadelphia when starting college at St. Joseph's University. After college she completed her Masters Degree in Community Counseling at Villanova University and later her PhD in Counseling Psychology at Temple University. She has worked in several clinical settings as a psychologist consisting of community mental health clinics, university counseling centers, outpatient clinics, hospital settings and private group practices. While completing her doctoral studies, she met her now husband Patrick and started a family with their first child Sofia Grace in 2009. In 2010 she moved back to the Lehigh Valley with her family and joined a group practice taking on the position as a staff psychologist. In 2012 she and her husband had their second child, a son, Kaizen Vaughn. In March 2020 two weeks prior to the pandemic she started a private practice in Allentown, PA and currently is the owner of the Center for Psychological Wellness and Change, LLC where she practices and conducts individual and couples psychotherapy with clients 18 years and older.
Outside of her role as a licensed psychologist in private practice, wife and mother of 2, she enjoys playing the piano, cooking for her family, traveling and most of all she enjoys spending time with her extended family- parents and siblings and of course her husband and two wonderful children.
Mom. Sister. Daughter. Niece. Engineer.  Manager.  Girl Scout Leader.  Council Person. Business Owner. Member of Delta Sigma Theta Sorority Incorporated.  T-ball Coach.  Committee Chair.  Past President of the Junior League of the Lehigh Valley (JLLV).   Former Vice President of New York Section of Society of Women Engineers.  A New Yorker.  Volunteer.  Mentor.  Georgia Tech Graduate. Drexel University Graduate.  Project Management Professional (PMP).  Six Sigma Black Belt Professional.  Lifetime Girl Scout.  Conference Speaker.  And the list goes on. 
 Laureen Pellegrino has worn many hats.  Some of these hats are worn as the first African American to hold such a position or title.  The hats that she is most proud of is when she is giving of her time and talents freely without expecting anything in return.  To be a mom, and guiding her children is the responsibility she takes most seriously.  Mentoring and volunteering in her community is second nature and like water to a plant, without it she would cease to be.  Being a role model to children and influencing others into believing in themselves are her greatest successes.
Anne Baum, MS, is the first President of Lehigh Valley Reilly Children's Hospital. She oversees strategic planning and operation of Lehigh Valley Reilly Children's Hospital, which is the community's only children's hospital and the third largest children's hospital in Pennsylvania.
A well-known and respected business leader in the Lehigh Valley for more than 20 years, Ms. Baum came to Lehigh Valley Reilly Children's Hospital from Capital Blue Cross, where she was Lehigh Valley Market President and Vice President, Producer and Labor Relations. 
Ms. Baum's experience prior to Capital Blue Cross includes Director of Managed Care Services for Premier Inc., Executive Director of Eastern Pennsylvania Health Network, and Vice President of Managed Care at St. Luke's University Health Network. She is the founder and President of Vision Accomplished, LLC, which provides leadership and professional training programs.
Ms. Baum earned a bachelor's degree in biology from University of Illinois Urbana-Champaign and a master's degree in health systems management from Rush University, Chicago. She is a member of numerous community boards and the recipient of several awards including PA Best Women in Business and the ATHENA Award. She is the author of the books Small Mistakes, Big Consequences – Develop Your Soft Skills to Help You Succeed, which helps people identify common behavior mistakes that can make or break relationships, and Small Mistakes, Big Consequences for Interviews.
Anne resides in Bethlehem with her husband Brad and their dog, Princess. They have two grown children, Reed and Shay.
Ask LaJoyce Brookshire who she is and quickly she will tell you she's "God's Girl", a full-time wife and mother, and a part-time everything else.  She is a licensed and ordained Pastor, Doctor of Naturopathy, Master Herbalist, New York Times Bestselling Author, Professor at The City University of New York, and Host of ASK THE GOOD DOCTOR "LIVE" on YouTube. 
As a Trinity College of Natural Health graduate, Dr. Brookshire is a Naturopath in the Poconos treating many how to attain, maintain, and reclaim Perfect Health with everything in nature. Affectionately called "The Good Doctor", Brookshire teaches that you ARE what you eat. She held class weekly on-air at SiriusXM UrbanView Channel 126 for four years and has transitioned to online learning via YouTube.
Dr. LaJoyce Brookshire is a New York Times bestselling author of the novel based on the movie Soul Food making her the First African American to novelize a major motion picture. With six concurrent bestselling books, Faith Under Fire: Betrayed by a Thing Called Love, Web of Deception, The Last Listening Party of the Notorious B.I.G., and three books in the Ask The Good Doctor book series. RENEWING YOUR MIND INK is Brookshire's publishing imprint of PEACE IN THE STORM PUBLISHING. The first two releases on this imprint are The Detox Edition Remixed for a Healthy New You and the just released cookbook KITCHEN WARRIORS 101: Homemade Healthy. 
Dr. LaJoyce adapted the Faith Under Fire memoir about the man who married her knowing he had AIDS – which sold over 250 thousand copies – into an Off-Broadway smash hit stage play with Co-Writer Blake Roberts in addition to the scripts for a feature film, and a 13-episode TV Series. As a result of this experience, Dr. Brookshire has become an HIV/AIDS educator, and is an advocate for Abstinence and Health Literacy.
In her former career, LaJoyce was a high-powered entertainment publicist to the STARS. As Director of Publicity at Arista Records in the mid-90s, she represented music legends, multi-platinum, and Diamond Certified artists such as The Queen of Soul Aretha Franklin, Sean "Puffy" Combs, Toni Braxton, Kenny G, OutKast, Monica, Deborah Cox, Craig Mack, Total, Faith Evans, 112, Usher, TLC, Whitney Houston, and The Notorious B.I.G aka (Biggie Smalls) until his death.
Due to her efforts as Director of Publicity her artists sold over 100 million albums worldwide, such as The Preachers Wife soundtrack, one of the best-selling gospel albums of all time selling an estimated six million copies; The Waiting to Exhale soundtrack selling over 12 million copies and winning a Grammy for best R&B song; TLC's Crazy, Sexy, Cool certified Diamond album sold over 23 million copies and spent over two years on the Billboard album charts making TLC the first and only girl group in history to be awarded Diamond status. LaJoyce also worked on both Toni Braxton's certified Double Platinum album Secret selling over 15 million copies; and The Notorious B.I.G.'s Ready To Die was certified four times Platinum and his last album Life After Death was Certified Diamond selling over 10 million copies and making it one of the best-selling Rap albums of all time; and Kenny G. earned the status as best-selling Instrumental Artist of all times selling over 75 million records. LaJoyce has worked with bona-fide R&B and Hip-Hop Royalty which firmly plants her on the throne amongst the Stars behind the Stars. 
Brookshire's next bestseller is co-created with Michelle Joyce, WOMEN BEHIND THE MIC: Curators of Pop Culture featuring women who have worked behind the scenes in the entertainment industry, was inspired by more than two decades of experiences. Mary J. Blige's Blue Butterfly Productions will Executive Produce the Docu-Series.
Dr. LaJoyce lives in the Poconos with husband Gus – also a Pastor – and together they have a daughter in college.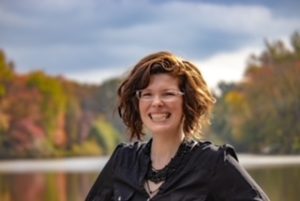 Lauren Wellbank is a former mortgage professional turned freelance writer. With more than a decade of lending experience under her belt, Lauren decided to walk away from it all to follow her dreams of becoming a writer after giving birth to her first child (a girl) in 2014. Since becoming a professional writer she has welcomed another daughter, a son, and a dog into the Lehigh Valley area home she shares with her husband.
With a focus on telling the stories that she thinks the world needs to hear, Lauren has written about her experience surviving domestic violence, her Kardashian-length marriage, suffering from a miscarriage, and even opened up about what it was like for her family to live paycheck-to-paycheck. It's her desire to make sure that nobody feels alone in their story.
You can find her work in The Washington Post, HuffPost, and more. Lauren is also working on writing a memoir.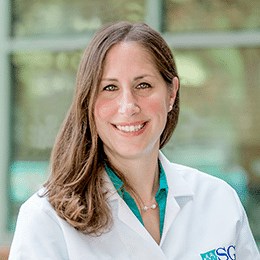 Dr. Tara Budinetz is double board certified in obstetrics and gynecology and reproductive endocrinology and infertility. She is her patients biggest advocate when it comes to in vitro fertilization, fertility preservation, donor egg, third party reproduction, recurrent pregnancy loss, endometriosis, polycystic ovarian syndrome (PCOS), and reproductive surgery. During her rotation in OB/GYN doing Reproductive Endocrinology is when she discovered her love for helping others in these areas .  She then followed up with her residency at Geisinger Medical Center, earning the recognition of Executive Chief Resident, then completed her fellowship at the University of Connecticut. 
She currently serves as the REI Section Chief at St. Luke's University Health Network and is also teaching faculty for the minimally invasive gynecologic surgical fellowship. She is a native of the Lehigh Valley living with her husband and four children.